Close your eyes for a moment and imagine strolling through a mesmerizing library. Each book on the shelf whispers its tales, its origins, and its secrets. The music playlist you love dances with vibrant descriptions of its melodies, rhythms, and emotions. As you whip up a culinary masterpiece, the recipe divulges not just its ingredients, but its nutritional symphony, guiding you towards a healthier feast.
Now, let's open our eyes to a reality that's closer than you think. You see, this captivating world of contextual enlightenment isn't limited to the realm of imagination. It's a dazzling phenomenon at the heart of exploratory data analysis. Yes, that's right – the key to unveiling patterns, narratives, and opportunities hidden within data lies in understanding the role of metadata.
Think about it. Every day, you make decisions based on context. When you pick up a mystery novel, you know what to expect – suspense, intrigue, and maybe a touch of danger. Similarly, when you're perusing your favorite streaming platform, you're not just looking for a song; you're searching for an energy, a mood, a rhythm that resonates with your moment. And when you're about to whip up dinner, knowing the nutritional value of your ingredients helps you make choices that align with your well-being.
But here's the twist: this same principle applies to the data that fuels our modern world. Imagine being able to decode the context of every data point – to understand its origin, its purpose, and its connections. That, my friends, is the power of metadata. It's like a magical decoder ring that turns a jumble of numbers and letters into a symphony of insights.
Just as metadata helps you navigate a library or an online shopping platform, it plays a crucial role in helping us make sense of complex datasets in the world of data analysis.
What is metadata?
Simple – it's data about data.
Just as the title, author, and summary on a book cover tell us about the book, metadata tells us important details about our data. It's like a recipe that tells us what ingredients we need, how much to use, and how to mix them together.
Types of metadata
Descriptive: This type of metadata describes the content and characteristics of a particular resource. It includes information such as title, author, subject, keywords, abstract, date created, and other details that help identify and categorize the resource.
Structural: Structural metadata describes the organization and relationships between different components of a resource. For example, in a website, structural metadata may include information about the hierarchy of web pages, navigation menus, and the relationships between them.
Administrative: This type of metadata provides information about the administrative aspects of a resource, such as its ownership, access rights, file format, file size, creation date, version history, and other technical details that help manage and maintain the resource.
How does metadata help us?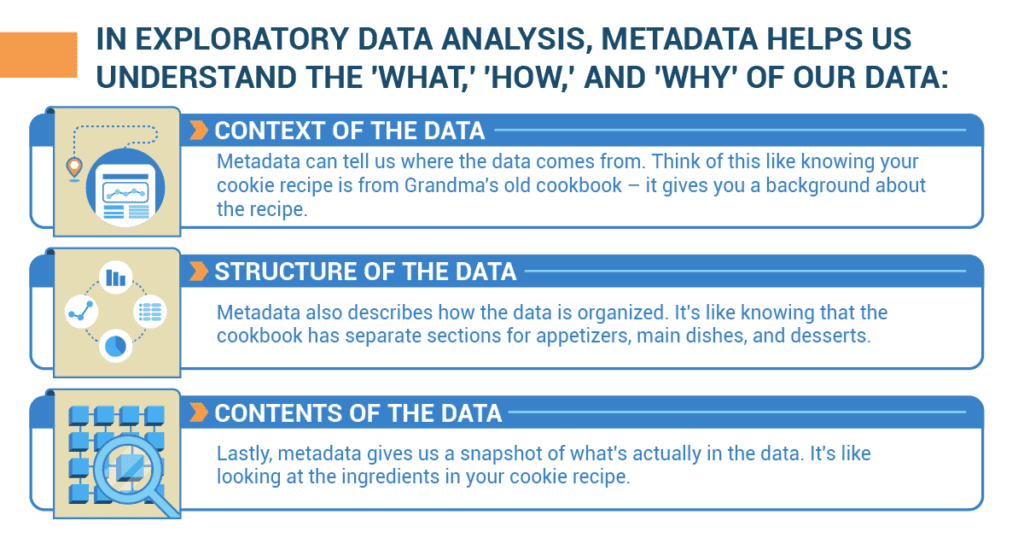 In exploratory data analysis, where we're trying to find out what our data can tell us, metadata is a secret map. It helps us understand the 'what,' 'how,' and 'why' of our data.  Here are some questions metadata helps us answer:
What is the context of the data? Metadata can tell us where the data comes from. Think of this like knowing your cookie recipe is from Grandma's old cookbook – it gives you a background about the recipe. For example, if you're looking at the data about the satisfaction rating of employees in your company, the metadata can tell you which year it's from, what criteria are included, and who collected it.
What is the structure of the data? Metadata also describes how the data is organized. It's like knowing that the cookbook has separate sections for appetizers, main dishes, and desserts. In our ratings example, the structure could be how the data is arranged – by department level, then by assignment, then by individual employee.
What are the contents of the data? Lastly, metadata gives us a snapshot of what's actually in the data. It's like looking at the ingredients in your cookie recipe. With ratings, the contents could be the actual scores that each employee received in each assignment.
How do we use metadata in exploratory data analysis?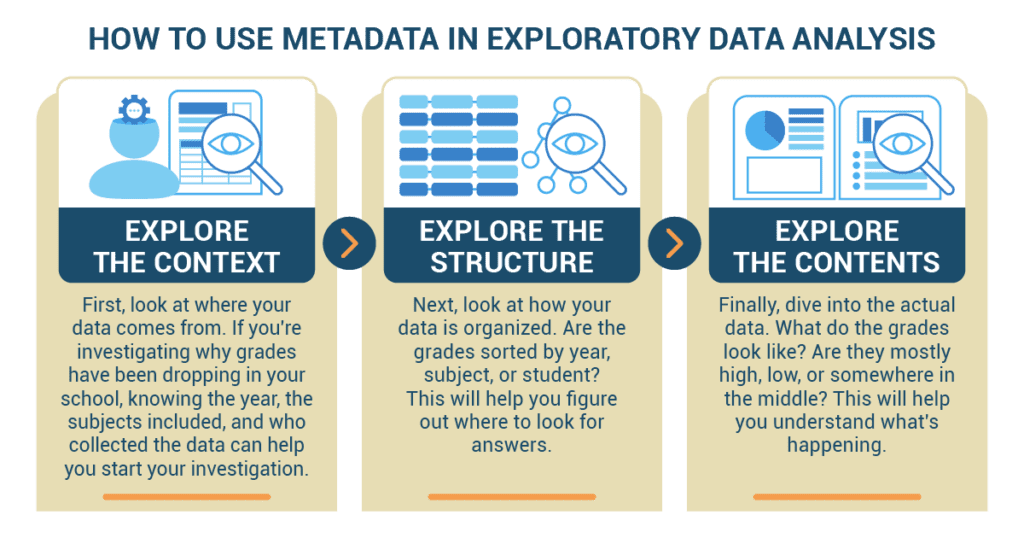 Explore the context: First, look at where your data comes from. If you're investigating why satisfaction ratings have been dropping in your company, knowing the year, the criteria included, and who collected the data can help you start your investigation.
Explore the structure: Next, look at how your data is organized. Are the ratings sorted by year, criteria, or employee? This will help you figure out where to look for answers.
Explore the contents: Finally, dive into the actual data. What do the ratings look like? Are they mostly high, low, or somewhere in the middle? This will help you understand what's happening.
With the understanding of these steps, you can clean up your data (like sorting out irrelevant information), explore further, and interpret your findings.
Illuminating Medical Insights – The Hidden Power of Metadata in Exploratory Data Analysis
Meet Dr. Emily Hayes, a brilliant researcher at a cutting-edge pharmaceutical company, dedicated to unraveling the mysteries of a complex disease. Tasked with analyzing a colossal dataset spanning patient profiles, treatment regimens, and clinical outcomes, Dr. Hayes embarks on a journey to explore the transformative potential of metadata in the realm of medical research.
Dr. Hayes faces a daunting challenge: deciphering the intricate web of variables that contribute to a baffling autoimmune disorder. The dataset at her disposal brims with diverse data points – from patient demographics and genetic markers to drug dosages and response rates. She recognizes that understanding the role of metadata is her compass to navigate through this labyrinthine puzzle.
Dr. Hayes starts her expedition by investigating the metadata associated with patient genetic profiles. She deciphers the intricate details that contextualize each genetic marker – the lab techniques, equipment, and quality assurance processes. These metadata gems serve as breadcrumbs that lead her to identify subtle variations in the genetic makeup, shedding light on potential subtypes of the disease that were previously overlooked.
As Dr. Hayes delves deeper, she encounters a revelation that underscores the power of metadata. By meticulously documenting the protocols used for administering medications, she unearths a striking correlation between certain treatment procedures and improved patient outcomes. This connection wasn't apparent when focusing solely on clinical data but becomes a beacon of hope when illuminated by metadata's guiding light.
Armed with her newfound insights, Dr. Hayes leads her team in a paradigm shift. They tailor treatment plans based on the interplay between patient genetics and specific drug delivery methods, ushering in an era of precision medicine for the autoimmune disorder. The role of metadata in decoding these correlations becomes a cornerstone in developing groundbreaking therapies.
Conclusion:
Dr. Hayes' journey showcases the profound impact of understanding metadata in exploratory data analysis, particularly in the realm of medicine. By harnessing the contextual richness encapsulated within metadata, she not only reveals hidden patterns but propels medical research into uncharted territories. Her story emphasizes that data is not merely a sea of numbers; it's a narrative woven with metadata's threads, waiting to be unraveled for transformative discoveries.
In this case study, Dr. Hayes' narrative exemplifies how unlocking the role of metadata can redefine medical research. It underscores that beyond the statistical intricacies, metadata acts as a guiding star, navigating researchers through complex data landscapes, and inspiring innovations that hold the potential to reshape healthcare paradigms.
---
Related Tags: