Not only is AI talent scarce; there's also a shortage of employees who are knowledgeable about the applications of AI-powered tools. For some organizations, it makes sense to retrain existing employees and help them understand how new technologies apply in their respective organizations. – Sameer Maskey, CEO at Fusemachines
Retraining employees
in new skills is not a foreign concept to Chief Learning Officers. However, today, learning and development teams are facing more complex and more numerous demands to retrain and reskill employees in technical fields such as data science, AI, and coding.
What is Retraining?
, a job board portal platform, offers this definition of retraining:
Retraining is the process of learning, refreshing, and developing data literacy skills in a workplace through continuous learning and training programs. It's often required on a regular basis to keep up with technological changes, regulations, and skills development.
Why the Need to Retrain the Workforce Now?
As Betterteam's definition suggests, employees need to keep up with technological changes.
Industries from banking to manufacturing have become digitized. As a result, the World Economic Forum predicts that in the coming two years, tens of millions of jobs will disappear due to automation. At the same time, demand for jobs that require technical skills such as coding in Python continues to rise while companies around the world are experiencing a skill shortage.
Retraining employees in data science-related skills has thus become a pressing need.
A February 2020 McKinsey study Beyond hiring: How companies are reskilling to address talent gaps asked executives where the greatest need for retraining the workforce exists. As shown in the figure below, at the top of the list for executives were data analytics skills at 43% – nearly double the responses of any other skillset.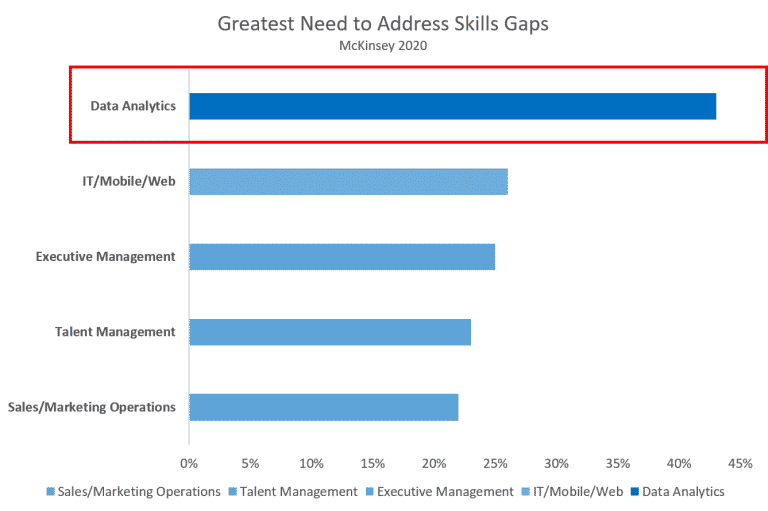 McKinsey also found that when looking at the specific skills with the greatest mismatch between current supply and what will be necessary in the next five years, respondents most often identified advanced data-analysis and mathematical skills.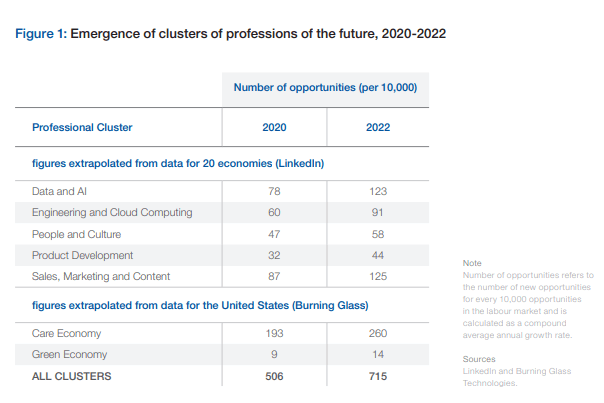 This data closely mirrors the World Economic Forum's finding that a large cluster of future workforce jobs will fall under a "data and AI" skills cluster.
Retraining Employees for Data Science Skills – 5 Examples
Retraining employees to meet the needs of the new business models of the digital age was not such a popular and pressing concept just a few years ago.
As an example, in 2018, Verizon granted buyouts to 10,000 employees, while at the same time adding data scientists to expand its 5G wireless technology. Similarly, SAP eliminated over 4,000 thousand jobs but added 5,000 jobs in cloud computing, artificial intelligence, and the Internet of Things (IoT).
In the past year however, several big-name companies have offered retraining programs for employees specifically aimed at data and technical skills, rather than laying off employees and trying to rehire externally to obtain those skills.
1. Amazon Technical Retraining Programs
Amazon is probably the most notorious company at this moment with respect to retraining its employees. Among other reskilling programs it is offering its workforce, three are geared towards data and technical skill development.
The Amazon Technical Academy's purpose is to move non-technical employees into software engineering roles.
The Associate2Tech program helps fulfilment center workers retrain for a move into technology/IT roles.
The Machine Learning University will help employees that already have a tech background develop skills in the machine learning space, an area of work that has seen massive growth in recent years.
2. Cognizant Skills Premium Program
has taken an incentives approach to boost employee retraining in new technologies. It is offering its workforce a "skills premium" allowance for employees wishing to reskill in the AI and machine learning domain.
Thus far the company has offered the program, which is also aimed at reducing attrition, to over 40,000 employees.
3. US Government Reskilling Academy
The US government has jumped on board the reskilling wagon. In 2019, the US government created the Reskilling Academy to address its aging and retiring IT workforce. According to its Office of Management and Budget Deputy Director, Margaret Weichert:
"The Reskilling Academy is targeted at places where we know we will need more people to do these jobs of the future and we know we don't have in the broader economy…That's people with that skillset—data science, analytics, cybersecurity and, broadly, project management. These are all important areas."
After graduating its first pilot class in cybersecurity, the next class of the Reskilling Academy in 2020 will focus on robotic process automation. The government will also pilot a Data Science Workshop.
4. JP Morgan Chase New Skills at Work Program
JPMorgan Chase recently added another $350 million to its existing $250 million employee retraining program.
The new program is called New Skills at Work is aimed at reskilling members of its workforce who are historically held back. It also is geared towards identifying what emerging skill sets workers from all backgrounds will need to be competitive in the future.
$200 million of this program will be dedicated to helping employees reskill by creating programs that help retrain people with new, in-demand tech skills.
5. IBM Skills Build Platform
IBM introduced its Skills Build program in France in May 2019. The program, which works in partnership with NGOs, is aimed at identifying future job skills needs for members of disadvantaged communities.
IBM has been declaring for some time that AI will change every single job over the next decade. To combat this, IBM has basically taken up the mantle of upskilling hero by trying to warn the entire working world of what may happen if they do not upskill or reskill their workers.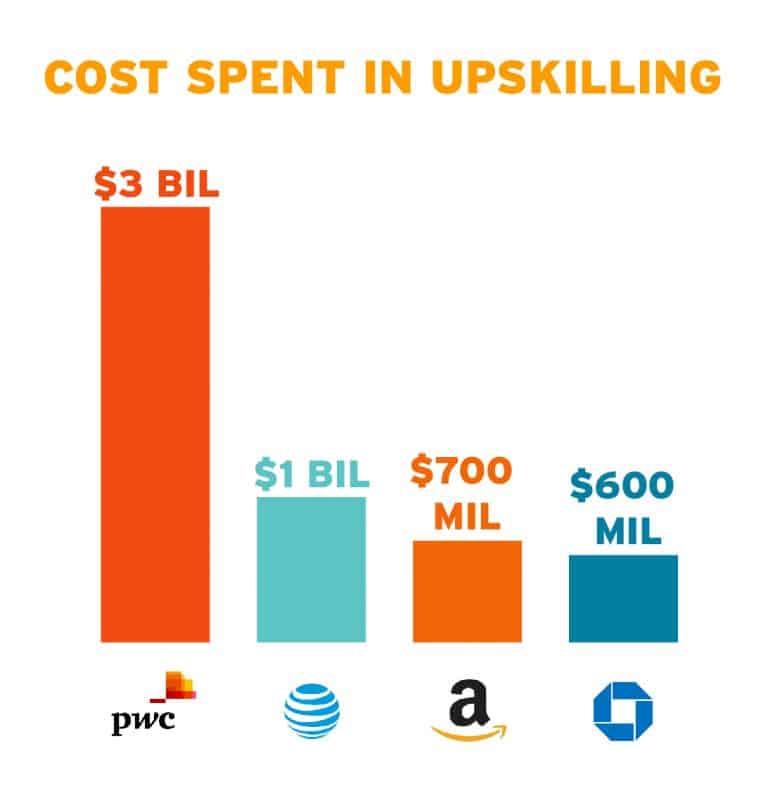 Expenditure on reskilling programs. Note: PwC upskilling is not specifically focused on data-related skills.
Retrain Employees = Retain Employees, AT&T Experience Shows
Given the potential costs of developing and implementing large scale technical retraining programs, many employers have been reluctant to spend on extensive retraining in part out of fear that their employees, freshly minted with modern technical skillsets, will then leave for other high paying tech roles.
Studies show, however, that employees appreciate learning and development. 70% of employees say that training and development opportunities impact their decision to stay at a company.
A very famous example of the notion that retraining is good for retention is AT&T's notorious reskilling program. Ten years ago, as the world was migrating to mobile devices and away from landlines and their associated hardware jobs, AT&T conducted research to determine how it could stay competitive in its evolving market.
The company identified that its workforce lacked the science, technology, engineering, and math skills the company would need to compete. Moreover, it identified 100,000 employees whose jobs were directly tied to the landline hardware that wouldn't exist in the next decade.
AT&T created a large-scale reskilling program to retrain some 250,000 employees for jobs that would benefit the company in the years ahead, spending $1 billion in the process. Not only was the company able to quickly and efficiently fill newly created jobs with employees who knew the culture and history of the company, but retention improved.
AT&T has found that employees who participated in the reskilling program are twice as likely to be hired for a critical internal job and four times more likely to advance in their careers at AT&T. The company now also hires fewer contractors for jobs requiring technical skills, so employees are more likely to learn, advance, and ultimately stay.
5 Suggestions for Retraining Employees for Data Science and AI
In a previous article, we outlined a high-level approach to upskilling your workforce for data science-related skills. In the future, we'll also be taking a deep dive into specific approaches to learning and development for data skills.
In addition to recommending that you first assess individuals, teams and the broader company for data skills before embarking on any learning and development program, here are a few additional suggestions for approaching data science retraining efforts.
1. Recognize that data science and AI is scary to many employees
that 75% of employees feel overwhelmed and unhappy when working with data, and an incredible 1/3 of the workforce has taken a sick day due to stress from working with data in their job roles.
In particular, for middle management employees who have been out of college for many years and who have advanced in their careers without needing to understand data concepts, going "back to school" by taking a 35-hour Udemy masterclass in data science can be a daunting if not impossible prospect.
This is why for data science skills, a carefully personalized, friction-free approach to learning is required.
2. Accept that retraining and reskilling for data and AI skills will take time
It took many years for horse and cart buggy drivers to become fully unemployed when cars were invented. Like cars, experts agree that AI and automation will take years if not decades to really make their mark on society and companies.
We've always held the view in our conversations with analytics leaders that building data science teams is a long term game. Look at AT&T. It took a ten-year view.
The future workforce is no different. It's important to recognize this in your data skills program development and in your communications with future and current employees.
3. Talk to data project leaders
Rather than turning to Coursera or Udemy for Business to design your data science retraining program, go to the source of the problem to find out what kind of learning needs to take place and in what priority. Talk to team and project managers who are in charge of big data and analytics initiatives.
Ask them where their project shortfalls are, what project roles they having trouble staffing, and what specific technical skills are needed. Based on the feedback provided you can begin to compile a list of skills gaps and begin to explore how to address these internally.
4. Enlist basic data training tools
That said, you can introduce the workforce to important basic data management concepts and analytics technologies that exist already in your organization.
In our previously mentioned article, we identified that just about everyone in a future workforce-enabled company will need to have a basic understanding of data concepts and technologies available within the organization.
5. Look for opportunities to retrain by cross-training
When it comes to developing data science and analytics teams, we've always promoted the concept of "cross-pollination" of skills.
It's no different for helping employees retrain for analytics and AI skills. As Sara Sproehnle, Vice President of Educational Services at Cloudera puts it, "You can easily cross-train people. It's not that the technology is incomprehensible. You just need to take existing developers, analysts, and admins and cross-train them."
Conclusion
Companies who, like AT&T ten years ago and like Amazon today, intend to survive the age of automation and AI don't really have the choice not to retrain employees (unless they are OK with having a chronic skills shortage and overpaying data scientists). There are not enough skilled employees to meet the growing need for deep analytical skills, machine learning skills, coding skills, and other data management and interpretation skills.
Companies need to look internally and begin to realize the benefits of retraining their own employees. They should encourage employees to become "citizen data scientists" and to find their own analytical skills journeys within the organization. To that effect, retraining for data science and AI skills is not something that happens at a point in time, like this year, but rather, it is a long term process. So it's time to get started.
---
Related Tags: