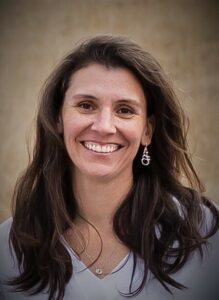 QuantHub is excited to announce the hiring of D'Marie Bartolf as our new Vice President of Curriculum! Bartolf is a deeply experienced education innovator, bringing a wealth of knowledge and expertise in developing personalized and adaptive teaching-learning methods.
Before joining QuantHub, she served as a faculty associate at the Naval Postgraduate School (NPS), where she co-invented the CHUNK Learning platform, a modular, real-time, and adaptive teaching-learning method that challenged traditional education models. Leveraging her expertise in CHUNK Learning, she led the research efforts for designing a personalized learning and development system for the Department of Veterans Affairs (VA) All Services Personnel and Institutional Readiness Engine (ASPIRE), to support organizational talent management.
"D'Marie brings a tremendous wealth of knowledge in learning science to the QuantHub team. As we build for scalability, she was the perfect choice for growing our team of passionate educators," observed Joshua Jones, CEO at QuantHub. "We met D'Marie during a national competition hosted by the National Artificial Intelligence Institute, and we were floored by her knowledge and passion for the hyper-tailored learning experience. We couldn't have asked for a better leader to help us expand in this critical area."
During her tenure at NPS, she served as the Coordinator of Education Innovation, spearheading the design of flexible learning experiences (FLEx) spaces. By leveraging critical learning technologies, her team created dynamic and inclusive learning environments that catered to the diverse needs of faculty and students. Additionally, she managed and defined the requirements for instructional design and media development efforts at the institution.
As a faculty member and Department Chair of the Naval Science Department at California State University Maritime Academy during her time on active duty in the Navy, she honed her leadership skills while ensuring the delivery of high-quality education to a diverse student body.
Currently, she is pursuing her Ed.D. at Vanderbilt University, specializing in leading and learning in organizations. This program allows her to further deepen her understanding of effective leadership and learning strategies while collaborating with others who share an unwavering commitment to enhancing learning environments and promoting equitable education.
The team at QuantHub is excited for the opportunity to collaborate with this proven expert and advocate in delivering a world-class learning experience!
---