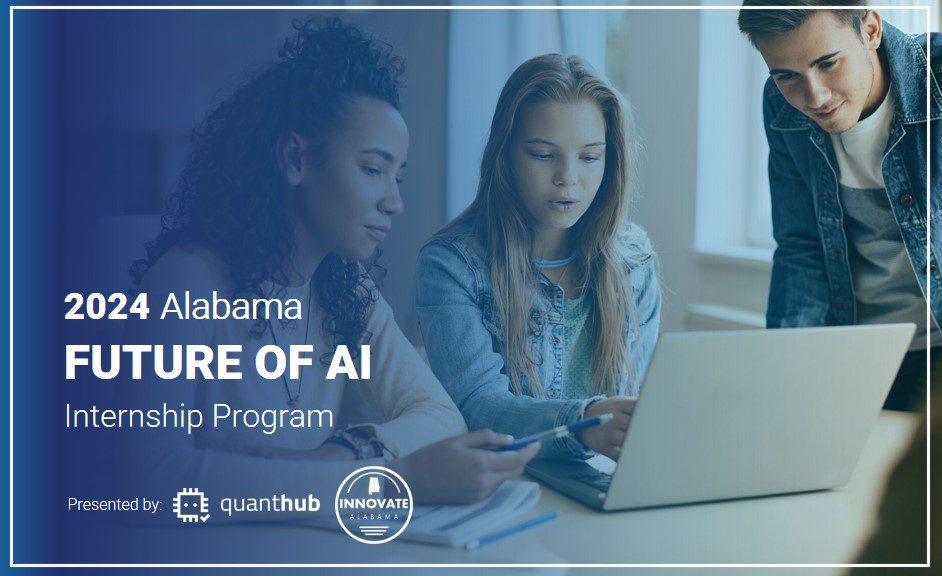 A list of participating employers will be available on this page in December. Alabama employers can register here.
In today's data-driven and increasingly automated workplace, a strong foundation in data literacy is important for all job-seekers and advanced data science skills are in growing demand. Rapid advances in the overlapping field of artificial intelligence (AI) and, specifically, machine learning, also promise unlimited potential for problem-solving and innovation.
To help students explore careers in these high-need areas, QuantHub is proud to announce the launch of its 2024 Alabama Future of AI Internship Program, made possible with generous support from Innovate Alabama. 
The summer internship program will place high school juniors and seniors from around the state into learning experiences at Alabama-based companies creatively using data to guide business decisions and address complex challenges. Representing a range of job sectors, participating employers will also be at the forefront of applied AI—providing interns a glimpse into cutting edge careers offering limitless possibility.
     In addition to gaining practical work experience and mentoring, interns will:
Build marketable data science skills in the AI-driven QuantHub learning platform
Hear from researchers using data science and AI to address problems impacting Alabama
Discuss data use, ethics, and legislation with business leaders and state policymakers
Participate in professional development and academic advising sessions
Network with a cohort of like-minded peers
No prior experience is necessary to participate in an internship, only a desire to work hard and learn!
Applications will be accepted until all positions are filled, but students are encouraged to apply early as candidate review and selection will begin February 1.
The internship session will span 8 weeks between June-July 2024 and most internships will allow hybrid or remote participation. Interns will receive a computer to use during the internship session. 
     Eligible applicants must meet the following criteria:
US citizenship
Current junior or senior enrolled in any Alabama high school
At least 16 years of age by May 1, 2024
Questions? Email Kelsey Bickett at kbickett@quanthub.com. 
Industry Partners: We Need You! 
Invest in the future of Alabama's data-driven workforce as a corporate sponsor of the 2024 Alabama Future of AI pilot intern cohort. We are currently seeking partnering companies in any job sector who are creatively harnessing data and cutting-edge AI/ machine learning technologies.
Why participate?                                
Your company will play a leading role introducing high ability students from rural and underserved communities across Alabama to career possibilities in data science and AI.

Participating interns will undertake advanced data science skills training

tailored to your workforce needs

in addition to supplemental professional development, academic advising, enrichment, and networking.

You will be featured in all publicity surrounding the statewide pilot program.

Complimentary 1-year QuantHub UpSkill licenses (up to 20 users) will be offered to companies registered to sponsor 2+ interns by December 31.
Registration is free  and registering does not obligate you to host an intern if your project needs change or we are unable to secure a strong candidate.
Alabama businesses interested in hosting interns through the program should submit a registration form. 
If you have questions or would like to learn about other ways to partner, reach out to program manager Kelsey Bickett at kbickett@quanthub.com.
---
Related Tags: