2020 was a year of both great disruption and deep reflection, and as corporate learning and development and human resource leaders plan for 2021 and beyond, they must provide solutions that allow the organization to adjust to disruptions in work while ensuring they are investing in business aligned learning strategies.
This post is was written by QuantHub contributor, Jennifer R. Burnett, Ph.D, President of Caliber Talent Solutions.
In the last year, learning and development imperatives have been accelerated including the need to address skill gaps, embrace virtual learning methods, and demonstrate impact. While we know advanced technology, data and analytics are key drivers of these changes (Randstad, 2020), it is important to recognize they are part of the solution too.
".. while employers have acknowledged that it is crucial for their businesses to reskill staff to keep up with changing technology and bolster the soft skills that only humans can possess, it is troubling that so few companies are currently offering this necessary training."

–Rebecca Henderson, CEO of Randstad global businesses and executive board member
Let's look at each of these – learning needs, learning methods, and impact of learning – as key considerations for learning strategy in 2021.
Capabilities to drive the business
When determining the learning needs for your workforce, it is essential to completely understand and align with business needs, priorities, and purpose. While those may have been more predictable in the past, many organizations are rethinking their business strategies. Embracing technology, operating more efficiently, and recognizing the importance of adaptability and resilience are all top of mind. These priorities translate to the way in which work gets done and ultimately the capabilities needed by the workforce.
Most experts agree that work is changing as a result of the influx of technology, and there will continue to be a demand for upskilling the workforce. In a recent Gartner report, Top 5 Priorities for HR Leaders in 2021, 68% of more than 800 HR leaders identified 'Building critical skills and competencies' as a top priority for 2021. Yet, only 21% of those HR leaders say there is shared accountability or partnering between HR and peers to determine future skill needs.
If you are not sure where to start in your own organization, there are many reports and predictions for the top skills needed for 2021 and beyond. Many skill needs seem to be driven, not surprisingly, by the rapid growth of digital technology and the changing nature of work.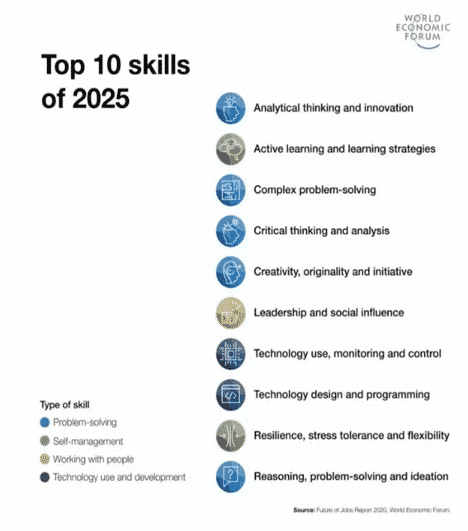 For example, according to World Economic Forum's recent report, the essential skills the workforce will need by 2025 include analytical thinking and innovation, active learning, complex problem solving, and critical thinking and analysis.
It is also important to recognize the critical intersection of hard skills and soft skills. At that intersection we can even add a third dimension – the influence of technology and data. This does not just apply to those individuals or leaders who work directly in technology related jobs anymore. These factors impact everyone in the organization. This trend will likely increase as global leaders indicate that the use of automation and AI will continue to accelerate (McKinsey, 2020). Data literacy is a great example of this type of capability needed across an organization. Data literacy is a combination of hard skills and soft skills, influenced by technology, and essential to the business.
Walmart is an example of an organization that recognized the need for re-skilling early, and, as a result, they were better prepared for the shifts in retail in 2020. Walmart already identified the need to upskill employees based on the strategic investments the company was making in a larger e-commerce presence and the move to online grocery ordering. Walmart recognizes that while job-specific training is essential, so are general skills such as digital literacy, data-driven decision making, having a growth mindset, flexibility, adaptability and empathy. With 2 million associates engaged in learning, it was and is imperative their focus is on those skill areas that will help to sustain and grow the organization across geographies, across business types, and across time.
It is time to move away from the traditional approach of only using jobs or functional areas to identify skills and related training. We must instead look across the entire organization for those capabilities that enable the organization to achieve current and future goals. Only then can HR begin to more readily demonstrate the impact of upskilling and reskilling the current and future workforce.
Learning in a digital world
Learning leaders have had to quickly shift the way in which learners consume learning content as expectations and demand from learners have changed. For years organizations have struggled with the transition of learning methods from in person, instructor led delivery, to online, virtual learning. Part of the challenge has been justifying the investment. HR and Learning and Development had to demonstrate how new learning technologies improve learning efficiency (learning in the flow of work), encourage collaborative learning (social and collaborative tools) and demonstrating it can still be as, or more, effective than instructor led methods. But, perhaps the greatest barrier was the actual transition and the ability of the organization to manage that change and drive adoption.
Now, with a sudden and significant shift to remote work and the increased demand by workers for learning content, this was no longer a 'nice to have'. Blended learning and on-the-job training may continue to be the most prominent learning methods, however, the way in which that learning is delivered has changed. Many employees had to immediately improve their technical skills to simply accomplish their work or communicate and collaborate with others. So, it makes sense they would also increase their expectations about accessibility to learning.
In April 2020, Cornerstone, a learning solution provider, released a report highlighting this rapid shift. They reported that 40% of Cornerstone Learning clients saw an increase in logins in just one month. In healthcare and public sector clients, the increase was even higher. Their client data also indicated, "a 50% increase in companies moving their in-person trainings to a virtual, online format, with the verticals most affected being healthcare, finance and education".
We have been talking about the 'modern' learner for a few years now and it was 2020 that accelerated that reality. Learning and development will continue to transform in 2021. At the core of this transformation will be a need to determine how to provide immersive, virtual, collaborative tools to meet the needs of both the business and the expectations of the self-directed learner (HRExecutive). It will not be the learning technology alone that enables this new state, but also a recognition that these tools will produce richer data that can be leveraged to continuously evaluate the adoption and effectiveness of these solutions.
Measuring learning impact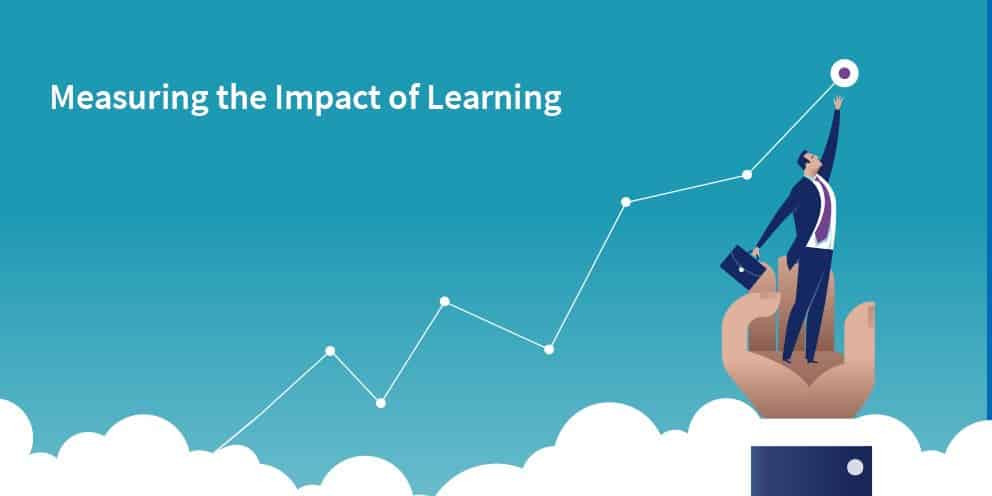 In the midst of so much change, disruption and uncertainty, this year has catapulted learning forward in many ways. Mostly, this has been through necessity – a glaring business need to address skill gaps, a shift in the nature of work which demanded the adoption of better learning technology, and new expectations from learners. This year has also highlighted the need to operate as efficiently as possible. Another finding from the Gartner report, noted that HR leaders are focused on business priorities such as improving operational excellence (65%) and growing the business (64%), there also was an increased focus on optimizing costs (50%, up 13% from last year). Following this year where some companies flourished and others went out of business – both at an amazing rate – it is no surprise that these are the emerging business priorities.
Unfortunately, in times of economic hardship, learning budgets and learning teams are often a target for cuts. Demonstrating the business impact of learning is not new, but Learning and Development and HR leaders still struggle with creating a business case for change and investment. In some ways, this year the case was made for them, out of necessity, but now showing the impact and value of the investments in learning will be even more important.
One advantage, for those who have already or are considering investing in technology for learning and other talent practices, is that these tools generate data to measure success. In order to do this, the HR team must improve their own skills related to data management, analysis, interpretation, and communication of results. This does not necessarily mean every HR team needs to hire data scientists! What it does mean is that there is a level of proficiency and literacy necessary to plan and generate the insights needed to demonstrate the value and impact of the learning strategy for the short and long term.
Learning and Development in 2021
After months of being in reaction mode, going down uncharted paths, and trying to balance business imperatives as well as employee safety and well-being, it is time to take a breath and look ahead. The immediate future is still unclear, but the resiliency and innovation that carried most of us through 2020 provides hope and confidence. Now, more than ever, HR and L&D leaders must be completely aligned with the business needs and ready to demonstrate value.
Here are a few steps that will move you in that direction…
First, clarify with leaders what has and has not changed in the business strategy and align the learning strategy to those priorities. CEOs today are concerned about the availability of talent, the existing skills gap, and the importance of engaging and growing their workforce. Talent and learning should be an integral part of those strategy conversations. To be relevant, you must know the business and focus on the critical skills, competencies and capabilities that will truly impact the future of the business.
Second, understand the needs, desires, goals and challenges of your learners. Employees value a culture of learning and are more likely to stay with that organization when they have the opportunity for growth. Understand their needs to not only perform in their current role, but what they need to be a self-directed learner as well. Listen to their preferences for learning delivery, content, and collaborative learning and deliver on those. Recognize that the best learning solutions are only as good as the level of adoption by and satisfaction of the learner.
Finally, take care of the essentials, but also create a case for change for the future. Identify the benefits to the business, not just to HR. Be prepared justify costs, but also identify and quantify the risk of not taking action. Delaying a decision can cost the organization in many ways. Recognize and take into account those intangible benefits as well. In a 2020 PwC report, 41% of CEOs said their upskilling programs have been 'very effective' in creating a stronger culture and engaging employees. In other words, investing in employees growth and development has other positive impacts that cannot be ignored.
Perhaps most importantly, we should recognize that learning itself is a skill. As learning and development leaders it is your role to help the organization create that culture of learning, to cultivate an environment of curiosity and creativity, and to help inspire ideas and innovation that will help your organization thrive in whatever the next year brings our way.
References
Randstad – https://content.randstadsourceright.com/2020-talent-trends-report#form
McKinsey –https://www.mckinsey.com/featured-insights/future-of-work/what-800-executives-envision-for-the-postpandemic-workforce
The Future Organization – How Walmart Uses Technology to Invest In Its 2 Million Employees, https://thefutureorganization.com/how-walmart-uses-technology-to-invest-in-its-2-million-employees/
World Economic Forum – https://www.weforum.org/agenda/2020/10/top-10-work-skills-of-tomorrow-how-long-it-takes-to-learn-them
Cornerstone – Cornerstone Reports Significant Increase in Online Learning as Organizations Transition to Remote Work, https://www.cornerstoneondemand.com/company/news/press-releases/Cornerstone-Data-Reveals-Organizations-and-Employees-are-Prioritizing-Online-Learning-in-New-Work-Environment/
HRExecutive – https://hrexecutive.com/how-the-transformation-of-ld-will-progress-next-year/
PwC Talent Trends 2020 – https://www.pwc.com/gx/en/ceo-agenda/ceosurvey/2020/trends/talent.html
---
Related Tags: