"The short shelf life of skills and a tightening labor market are giving rise to a multitude of skill gaps. Businesses are fighting to stay ahead of the curve, trying to hold onto their best talent and struggling to fill key positions. Individuals are conscious of staying relevant in the age of automation." – LinkedIn Workplace Learning Report
The Currency of Skills
At QuantHub, we're all about skills – data skills to be exact.  We believe companies should be all about data skills too.  Why?
Skills are the new currency, the World Economic Forum says.
CEOs agree.
Renowned talent management expert Josh Bersin says that skills are CEOs' #1 concern.  Likewise, PwC's 2019 annual CEO survey found that CEOs ranked the "availability of key skills"  – mainly data and analytics skills – as the #3 threat to their organization.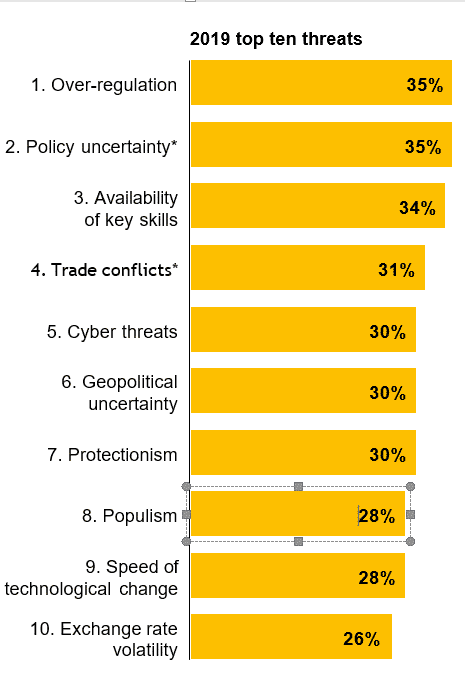 With CEOs' perceived threat of a major skills gap, PwC's 2020 Survey of CEOs subsequently found that:
"CEOs who have embraced the potential of upskilling are realizing the rewards, such as a stronger corporate culture,
greater innovation and higher workforce productivity."
The message is clear: Hiring from the outside alone cannot fill the skills gap. For many reasons, including a widening skills gap, CEOs have decided that retraining and upskilling employees for critical skills like data literacy skills is the way to stay ahead and drive innovation and productivity while retaining their best and brightest.
The Strategic Role of Learning and Development
There's just one challenging detail to this upskilling movement which PwC points out in its survey report:
"Companies will have to grow their own workforce"
This begs the question: How should companies grow their own workforce?
Enter the Learning and Development function, led by the Chief Learning Officer.
The job of the Learning and Development department is to develop programs and opportunities that promote employee skills acquisition and growth. If skills are the new currency, then Learning and Development's job is to mint that currency.
Just as the US mint is vital to the workings of the economy, the L&D function's ability to develop and retain the required pool of skills within the organization has, in the words of Josh Bersin, "become a life or death matter" for companies.
Despite the challenging scenario, the increased focus from CEOs on skills development presents a real opportunity for L&D to play a strategic role in business outcomes. The function is now uniquely positioned to help organizational talent make a significant impact on business' performance.
Why Learning and Development Needs to Focus on Data Literacy
As a data skills assessment company, we firmly believe and have understood from both data leaders and human resources personnel that across their organizations employees need to learn to be comfortable working with data and making data-driven decisions. Specifically, there are several reasons why learning and development programs should focus on data literacy as a priority:
1. Data skills are top priority for CEOs
The PwC and many similar surveys like the McKinsey survey results depicted to the right consistently find that CEOs are especially worried about the data and analytical skills gap in their organization. Without data literacy, critical data science and AI initiatives meet with resistance and ultimately fail or fall short on value creation.
It has become imperative that companies think about how to implement a data literacy learning and development program. It follows that a major focus area for Chief Learning Officers needs to be the development of data skills in the workforce.
2. Colleges do not prepare new employees with data skills
Studies have shown that even today, colleges and universities do not prepare today's workforce for data literacy. Graduates are not taught concepts like data governance, privacy, data security, the importance of one source of truth, or how to challenge the outputs of an algorithm.
The responsibility for teaching data-related skills has shifted from academic institutions to employers. Companies like Bloomberg, Guardian Insurance, Adobe and many more have thus created data science and digital academies that are focused on helping employees in all disciplines learn how to analyze data.
3. The workforce is deficient in data-driven problem solving skills
A recent focus group study by Josh Bersin and Marc Zao-Sanders, CEO of Filtered.com, found that analytics teams were not suffering from a lack of technical skills. Rather their challenge is that the people in the organization lack the ability to use and interpret data to solve business problems.
Skills they found lacking in the workforce were:
Asking the right questions
Understanding which data is relevant and how to test the validity of the data they have
Interpreting the data well, so the results are useful and meaningful
Testing hypotheses using A/B tests to see what results pan out
Creating easy-to-understand visualizations so leaders understand the results
Telling a story to help decision-makers see the big picture and act on the results of analysis
Without an understanding of how to use data to solve business problems, the efforts of advanced analytics teams will be fruitless.
Traditional L&D Strategies Go Wrong Teaching Data Skills
With so many data-related skills being deficient in many businesses, it's difficult for L&D leaders to know where and how to start improving workforce capabilities. One thing is becoming evident, however.
Traditional corporate training tactics are not be the best way to upskill the workforce in data and analytics.
For example, traditional training programs measure KPIs such as minutes watched or certificate credits, which have little bearing on business impact of learning programs. Without the ability to apply data analytics to real life situations, the number of minutes watched in a LinkedIn module does not reflect anything of significance.
In addition, traditional training and learning happen when L&D decides to schedule it, not at a time when learning has an immediate impact on employees' job roles. This disconnect in timing between training and working results in the infamous "Forgetting Curve". Employees easily forget their training within days and thereafter continuously feel that they lack the skills to do their job.
As a result of the shortcomings of traditional corporate trainings, three pillars of learning have found a place front and center in the quest to upskill employees in data-related skills:
Continuous learning
Learning in the flow of work
Learning analytics
Continuous Learning
With rapid automation, technological change and a fast-moving business landscape shortening the shelf life of traditional linear career paths and skills, it's more important than ever for employees to learn continuously in order to adapt to changing circumstances.
Continuous learning is needed now more than ever for many reasons:
Multiple generations at work – There may be up to 5 generations in a company due to people living and working longer.
No time – Employees are overwhelmed and have no time to learn. As a results 58% of employees stated in a LinkedIn study that they prefer to learn continuously at their own pace.
Career paths are no longer linear – the linear college-career-retirement path is in decline. The up or out model doesn't work anymore. Employees need continuous learning to navigate a meandering career path.
Retention – Employees want to learn. 70% of employees say they will leave a job for lack of learning and development opportunities. This is especially true for the growing Millennial management population.
Learning and development leaders should recognize that they are no longer managing a fixed corporate curriculum, but rather are managing continuous employee learning journeys. This is especially true for a highly technical and evolving curriculum such as data literacy.
Learning in the Flow of Work
Josh Bersin has suggested that productivity in the US has slowed to a crawl because employers haven't rewired work experiences, such as learning, around digitization. Companies are still operating with old work styles (such as one-off training) while using new tools.
So how should corporate learning and development be reconfigured for employees who are using new technical tools?
Bersin has famously suggested that, just like collaboration on Slack or Microsoft Team chats, employee learning and development needs to take place "in the flow of work".
Many studies support the notion of learning in the flow of work. LinkedIn found that the #1 reason that employees feel held back from learning is that they don't have the time at work to do it. Deloitte, too, found that employees have very little time at work for learning — less than 1% of their time, which equates to about 25 minutes a day for learning.
In addition, LinkedIn found that 68% of employees want to learn at work (rather than at home or at a separate training location) and 50% want to learn at the "point of need" in their workday.
Employees are seeking learning models that fit into their busy, fast paced work environments.
What this means is that corporate learning and development programs must transition from large online learning modules and big learning portals to micro-learning opportunities that are interspersed and accessible by employees in the flow of work, and which meet immediate learning and performance needs on the job.
What's more, studies have shown that the need to learn is so great that employees have been simply bypassing the corporate training department to go off and learn what they need to learn on their own.
The problem with this approach however, is that employees then feel that the organization is not invested in their growth and development, and so they leave.
Employers thus need to provide more learning solutions that happen in the flow of work in order to retain employees.
Learning in the flow of work also has the great benefit of combating the Forgetting Curve. This is because the approach offers employees more opportunities to practice repeated retrieval of information while on the job and to apply and adapt it on the job. This repetitive retrieval greatly aids retention.
It's worth mentioning that structured learning still has a place in learning and development, in particularly for new and complex learning. It's just that micro-learning supports employee needs for continuous learning.
Learning Analytics
The annual Global Sentiment Survey of learning and development professionals asks, "What will be hot in workplace learning in (fill in the year)?"
Not only did the 2019 survey show a shift away from a focus on the creation and delivery of learning content towards personalized learning supported by data, but in 2020 the survey showed that data analytics took a front and center role.
Learning analytics was the #1 hot topic for workplace learning in 2020. Learning analytics refers to the collection and analysis of data about learners and their environments for the purpose of understanding and improving learning outcomes.
What's more, personalization and adaptive learning – which also requires data analytics – was ranked #2 in 2020.
What this means for corporate Learning and Development is that this function, like many others, must adopt the use of data and analytics to be effective in the future. No longer can the number of minutes watched on an LMS learning portal serve as a measure of employee skill development and program success.
Learning analytics that, for example, demonstrate real business impact stemming from learning programs, enable adaptive and personalized learning, or that measure learning retention, must be a focus going forward.
Tips for Successful Data Literacy L&D Strategies
So how does this all relate to data literacy ? Data literacy, being a top corporate learning priority and a fast moving, ever changing skill set, needs a modern learning and development framework. Besides ensuring continuous learning experiences that take place in the flow of work, which are tracked and analyzed, here are three more suggestions for how to think about developing an L&D program for data literacy:
1. Curate a variety of learning experiences
Rather than offering a 15 hour Udemy or LinkedIn course on data analytics, first develop a data skills framework that employees need. Then, use it to guide the curation of diverse courses, podcasts, videos, and articles that will motivate learning. The key is to cultivate quality rather than quantity (of hours).
2. Foster a data learning culture
Studies show that the highest performing companies have fostered a corporate culture of learning where people help each other learn data skills and put data responsibilities in the hands of everyone. Companies can foster such a learning culture that promotes a difficult topic like data skills by first communicating and demonstrating the benefits of improved data skills to employees before asking them to upskill themselves on off-putting subjects like statistics and lookups. Companies should first communicate that the primary benefits of data literacy – better judgment and decision making and increased confidence in data-driven decisions – benefits everyone.
3. Start small
Data literacy for all is a huge undertaking so it's overwhelming to launch an L&D program around data skills for everyone at once. Start with the most important business unit(s) or functions that will benefit the most and learn from that experience.
Bottom Line
The chronic data skills gap has captured the focus of CEOs and instilled in them a willingness to invest in upskilling the workforce. Learning and Development has an opportunity to have a seat at the corporate strategy table by developing employee upskilling programs that solve the problem of the "data and analytics skills threat". However to do so, it will have to devise a data literacy learning program that fits into the fast paced work environment of employees and offer continuous and repetitive learning opportunities. Finally, these programs need to track and analyze the ultimate impact on the business, including retention, productivity, skills growth and more. L&D itself will have to become data literate.
---
Related Tags: