What's Your Data Science Dream Job?
Data science jobs abound. So we've seen a dramatic rise in undergraduate and graduate student enrollments in data science and related degree programs as data literacy skills is becoming more and more important in the business world. QuantHub experienced firsthand this growing enthusiasm of students seeking to become a data scientist during our recent Back to Campus Data Challenge. We asked each challenge participant,
"What's your data science dream job?"
We see thousands of data science skill assessment scores come across our platform. Rarely do we get a glimpse of the data scientist hopefuls behind the score. So for fun, we decided with this one question to try and get a feel for who the future data scientists are.
As you would expect, the responses were very diverse. Turns out, our prospective data scientists want to apply their craft in a variety of data science dream jobs from working at SpaceX to "making an impact much bigger than myself". Some data science dream jobs were expressed as a job role or title, others were expressed as fields of application, and still other data science dream jobs were expressed as visionary goals.
We put together this overview of student profiles and their data science dream jobs and goals. We're going to track this kind of information in future challenges to get a better view of where future data scientists are going. We hope next time you interview a candidate for a data science job, you'll consider just how diverse the data talent pool is and that they're all are working towards their data dream job by challenging themselves in competitions like ours!
Profiles of 660 Future Data Science Job Candidates
University Representation
660 students from 72 universities signed up for our Data Challenge. They represented a wide range of educational institutions and geographies. We saw particularly large participation from students at:
The majority (but certainly not all) of participants from these schools were enrolled in a computer science, data science or data analytics degree program. In addition, it was encouraging to see a large variety of participants from lesser known programs such as Calvin University's Bachelor of Data Science, University of British Columbia's Bachelor of International Economics and Millsaps College's Bachelor of Science in Math. This range of backgrounds just confirms the notion that data science is everywhere.
Fields of Study
About 40% of the students who signed up for our Back to School Data Challenge were pursuing degrees in computer science. About 23% were pursuing a business or data analytics degree. 17% were pursuing data science degrees. 20% represented a variety of other fields of study. These included fields as diverse as neuroscience, social science, financial engineering, health information systems, economics, operations research and even philosophy.
Inexplicably, only a small number of students studying mathematics and/or statistics took part in the challenge. We reckon that those who are interested in math/statistics, but who wish to pursue a career in data science, are opting to enroll in data science or data analytics degree programs instead of pure math/statistics degree programs. This shift was recently confirmed by one university that we interviewed for our Quantcrunch Report series.
Master's vs. Undergrad Degrees
While not all student specified their degree program level, most did. At least 64% of participants were enrolled in Master's level programs which were almost all either a Master's degree in Computer Science, Data Science or Analytics.
Data Science Dream Jobs – Specific Roles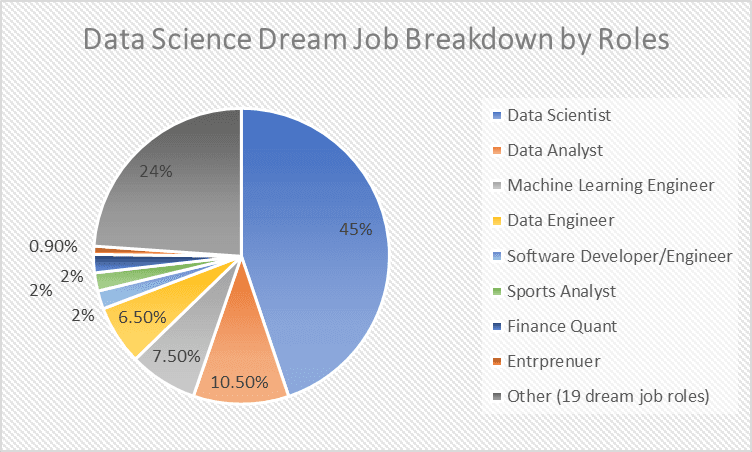 Most students expressed their data science dream job in terms of a role or job title. The chart above shows a breakdown of the relative popularity of different roles.
Unsurprisingly the greatest number of students aspire to, well, become a "Data Scientist" as their dream job, with 45% stating as much. Even though we had a very large number of business analytics and data analytics degree candidates, the title of "Data Analyst" was a dream for a much smaller number. Could it be the difference in paychecks between these two dream jobs? Or the "sexy" appeal of the title of Data Scientist? Or simple confusion between these two job descriptions? Who knows!
Those dreaming of becoming a Data Scientist or a Data Analyst represented a diverse group of candidates pursuing degrees in computer science, business analytics, psychology, management information systems, MBAs, statistics and even liberal arts.
Rounding out the top dream job roles were Machine Learning Engineer and Data Engineer – 2 roles that essentially also round out a proper data science team. Nearly all of the students who chose Data Engineer as their dream job were pursuing a master's level degree. The large majority of students wishing to become Machine Learning Engineers were also pursuing a master's degree. This may explain the relative shortage in these two fields. It would appear that a master's degree is preferred.
This breakdown also reflects a shift that we've been hearing about – no longer is a masters degree required to enter the field of data science. Rather it appears that at the undergraduate level developing broad data science and advanced analytics skills is the trend. Whereas masters degrees are increasingly reserved for those seeking to specialized in fields such as machine learning.
As for other dream job roles, the table below shows the diversity of roles students acquiring data science skills are aiming for.
| | |
| --- | --- |
| Job Title/Role | Number of Responses |
| Machine Learning Researcher | 4 |
| Deep Learning Engineer | 4 |
| Deep Learning Researcher | 3 |
| AI Engineer | 3 |
| CEO | 3 |
| Data Miner | 2 |
| Supply Chain Analyst | 2 |
| Decision Scientist | 2 |
| Financial Analyst | 2 |
| Media Researcher | 2 |
| Spatial Database Engineer | 2 |
| Cybersecurity Analyst | 2 |
| UX Designer/Researcher | 1 |
| CTO | 1 |
| AI Researcher | 1 |
| Statistical Learning Researcher | 1 |
| Computer Engineer | 1 |
| Computer Vision Engineer | 1 |
| Computer Network Architect | 1 |
Company-Specific Data Science Dream Jobs
Many candidates specified what companies and organizations they wanted to work with in the future. Sports teams was one very popular theme with multiple students aspiring to work for the MLB, NBA and FIFA teams. Of course the "FAANG"[1] companies were widely mentioned. Google was the most frequently named data science dream job employer. Nintendo Game Tester sounded like the most fun job to us though!
Data Science Dream Job Employers
| | | | |
| --- | --- | --- | --- |
| American Cancer Society | ESPN Data Scientist | Nintendo Game Tester | Amazon Data Scientist |
| Atlanta Hawks Analyst | Nike Analyst | LA Dodgers Operations | Grab.com Chief Data Scientist |
| NBA Data Analytics | Point72 Asset Management Data Researcher | Facebook Data Scientist | Google Data Scientist |
| AirBnB Data Scientist | Microsoft Data Scientist | NASA Data Scientist | Quora Data Scientist |
| Space X Data Scientist | Google Deep Learning Engineer | Spotify | "FAANG" |
| FIFA Data Scientist | Major League Baseball Data Scientist | Two Sigma Machine Learning Engineer | National Renewable Energy Lab Researcher |
| Premier League Soccer Analyst | Tableau Machine Learning Analyst | Search for Extraterrestrial Intelligence Institute (SETI) | |
Data Dream Jobs Preferred Fields of Application
Many candidates described their data dream job in terms of what type of data science and analytics application or industry they want to pursue. The usual suspects of sports, finance and automotive were mentioned, but several niches were mentioned. Here's a number of examples:
Working with user spending data, to identify trends, and try to include context results.
Working within the music industry
Working in the intersecting field of cognitive neuroscience and artificial intelligence
Where big data, machine learning, deep learning and NLP meet
To work within the robotics, financial or artificial intelligence sector
The job I have now, as a Spoken Dialogue Systems researcher
Startup Data Scientist
Fashion Analyst
A data scientist who designs AI for robots, drones or self-driving cars
Analytics driven solution for energy utilities
Applying advanced analytics techniques in sports
Artificial Intelligence Ideation for Synergistic Disruption
Bioinformatics
Computational and Systems Neuroscience
Computational Social Scientist
Data scientist at a financial company
Data Scientist in automotive industry
Data Scientist in financial vertical of consulting
Data Scientist role with causal analysis
Evaluating social programs or R&D
Football analyst
Game design/software development
Data Scientist in the retail domain
Penetration Testing
Performing research analysis on pediatric oncology studies
Probabilistic Machine Learning
Product Data Scientist
Soccer analyst
Supply Chain Analyst
Analyst for top tech company
And here's one of the more, err, impassioned responses from someone looking to go into financial services :
To be a data scientist, dedicated to finding creative solutions for product enhancement in financial services domain. I am excited about working with analytical techniques to derive qualitative or quantitative insights from unstructured data, combining my statistical knowledge with sophisticated tools to have an actual impact on business.
No doubt there's a bright future ahead for this candidate at Goldman Sachs or Citigroup!
Some Data Science Dream Jobs are Leadership Roles
While most students did not specific any kind of seniority of role in their dream job description, several did. Here's a few examples:
| | | |
| --- | --- | --- |
| CEO of a Tech giant | Director of a Data Analytics Department | Managing a team of Data Scientists at Google |
| Chief Data Scientist | Senior Data Analyst | Founder of a cybersecurity consulting firm |
| Chief Data Engineer | Director of Data Science | CTO |
Data Science Dream Jobs That Solve Problems
We were amazed and humbled by the number of students who expressed a desire to use their tech and data skills to do good in some way, or who simply had a philosophical take on what a data dream job is. It's worth noting that one of our two winners' data dream job responses fell into this category.
What shines through in the comments that follow is the problem solving nature of students who choose to pursue a data science related field. They want to help address global challenges and have an impact on the companies that they work with. Their responses can be broken down into a few key themes.
Solving the World's Problems
"Programming scalable solutions to solve the world's biggest problems."
"Connect plant protection and data science"
"Data Scientist at a firm/company/startup solving climate change issues"
"Sustainability analytics"
"To work for good cause"
"To use data and networks to move towards sustainable future by creating my own firm/ company"
"Working at Thorn using data to stop child pornography and human trafficking"
Helping People
"Using data to help people"
"Working with healthcare data to increase social equity"
"Using data science to improve the lives of people and positively transform the society."
"Decision Sciences, melding human behavior and data together"
"Work related to optimizing programs and services to help disadvantaged communities"
"Using data to understand and to develop treatments for genetic diseases, or any job that uses data to solve problems"
"To use data for personal health monitoring including tracking sleep cycles, stress and quality of life"
Making a Business or Personal Impact
"To work in a place where I learn from and contribute to

the community rigorously"
"Applying cutting edge deep learning techniques to solve new and interesting problems, especially in the finance domain"
"Becoming a valuable asset to the company I work with"
"Data scientist or analyst for a publisher! I want to use my technical skills to serve an industry I love (books)."
"A meaningful, exciting, fast paced job"
"Doing meaningful research"
"To disprove conjecture using data analysis."
"Through my work I hope to some day make a positive difference in the world, and I believe that leveraging the power of data analytics to do good via businesses is the most effective way of achieving this."
"To become one of the top Data Scientists, unraveling insights and taking prediction to next level"
"To work around the world"
"Using advanced data science methods in an economic research context to drive innovative solutions to inequity in markets."
"Using data analytics to interpret magnificent datasets with amazing data visualization"
"To work with smart people on cool projects"
And these students are just getting going. Gives you hope doesn't it?
Interesting Data Science Dream Jobs
A handful of students stated data dream jobs that made us smile. Here they are:
Professional sports bettor
A senior double agent data hacker pirate for Facebook (we dare you to say that fast 10 times)
An international coder (hmmm, do they mean an international spy perhaps?)
Chief Meme Analyst (our personal favorite!)
Some Are Uncertain of Their Data Science Dream Job
It's important to remember that not everybody knows what they want to be when they grow up. About 5 students said they had no idea what their data dream job is, or that "maybe" they want to be a data scientist. But in the grand scheme, that's a negligible number and should not significantly contribute to any data science shortage thankfully!
We'd like to congratulate and thank all who participated in our Back to School Campus Data Challenge. We hope that you all achieve whatever dream jobs you aspire to!
---